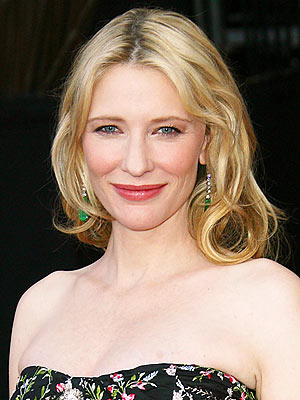 Credit: Jen Lowery/Startraks
SYDNEY (AFP) — Hollywood star Cate Blanchett has given birth to a son, a spokesman for the Australian actress said Monday.
The baby is the third child for the 38-year-old Oscar-winner and her playwright husband Andrew Upton. He was born Sunday.
"Cate Blanchett and Andrew Upton have a baby boy, Ignatius Martin Upton," a spokesman for the Sydney Theatre Company, where the couple are joint artistic directors, told AFP.
"All are well and very happy," he added.
The baby is the third son for the Sydney-based couple, who already have Dashiell, six, and Roman, three.
The baby's arrival comes just days before Blanchett is due to attend a national summit for the future organised by Prime Minister Kevin Rudd.
The glamorous actress is scheduled to chair a session titled "Towards a creative Australia" at the Australia 2020 Summit in Canberra this weekend.
Rudd said Monday that Blanchett would still attend the summit, for which she had helped select 100 of the 1,000 participants, but had requested an additional co-chair for her session.
"I want to extend my best wishes to Ms Blanchett and her family and thank her for her contribution to the Australia 2020 Summit thus far," Rudd said in a statement.
Blanchett was nominated for two Academy Awards this year for her work in "Elizabeth: The Golden Age" and the acclaimed Bob Dylan biopic "I'm Not There," but she failed to take home a statue.
Blanchett won an Oscar for her portrayal of Katharine Hepburn in the 2004 film "The Aviator". - Read more
Congratulations Cate!