Supernanny's Tips on Dealing With Baby's First Year
Read an Excerpt of Jo Frost's Book Below
Supernanny Jo Frost has helped countless families deal with out-of-control kids and get their lives back on track. Now, the child-care provider has written a new book to help parents get through the obstacles in baby's first year.  
In "Jo Frost's Confident Baby Care: What You Need to Know for the First Year From America's Most Trusted Nanny," Frost uses humor and empathy to give practical information and emotional support to mothers and fathers.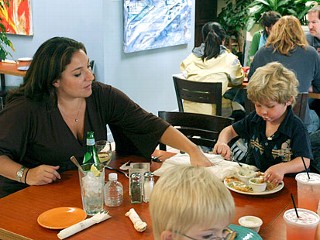 (CHRIS CHAVIRA/ABC)
Supernanny Jo Frost is known for her expertise with children and now has written a book dedicated to baby's first year. Frost gives tips on breastfeeding, work-life balance and more.
The book gives advice on baby proofing the home; setting up routines for infants; and even dealing with premature and multiple births.  
Read an excerpt of Frost's baby guide below. 
Introduction
Congratulations! You're about to embark on the adventure of a lifetime?having a baby. To consciously raise a fine, well-adjusted child is the most serious commitment you will ever make in your life. You're about to bring forth new life?or, in some cases, new lives?and nurture a tiny being as he or she grows. But what makes this so exciting is that this isn't just the birth of your child, it is the birth of your family in this particular configuration. And, if this is your first, it's also the birth of you as a parent. Wow!
 Recently I was with friends as they brought their newborn home from the hospital and was reminded again that all the planning in the world can't prepare you for the emotion and energy that your newborn will bring. Nothing can make you fully understand the feeling of holding your baby in your arms. You'll be experiencing this fabulous feeling for yourself very soon.
 Naturally, however, you want to be prepared to be the best parent. So it's important to be as savvy as you can and read about how to make things go as smoothly as possible. That's why I've written this book?to give you the information you need to be the best parent you want to be. Keep it by your bedside so you can flip to it anytime you need as you go through your baby's first year, ready to help with any questions or concerns you might have. Think of it as your very own live-in me.
 I've also written it for another important reason. No matter how many children you have, remember that this newborn is a miracle. That's where the saying "bundle of joy" comes from. It's kind of funny listening to people talk about babies. Over the years, I've noticed a lot of negativity about newborns?things like "Congratulations, you're not going to sleep for years"?and lots of advice about how to cope. Cope means you're in a situation that's a strain already. My approach to baby care isn't about coping or dealing with strain. It's about helping you have the confidence to raise your baby in a healthy and content way. It's also about learning just who your baby is. For he has his own soul. Her own spirit. Your baby is a present, a gift of life itself, which will unfold and develop before your very own eyes.
 While I've never had a baby, over the last seventeen years I've been with lots of families as they have brought their newborns home, and I know what a joyful, one-of-a kind experience the first year can be when you've got the right attitudes, understanding, and equipment. Throughout my years as a nanny, I've had professors, psychologists, and pediatricians tell me that what they've studied for forty years, I've grasped "in the field." That's what I'll be sharing with you?my secrets from years of experience for making your baby's first year the wonder-filled celebration it was meant to be.