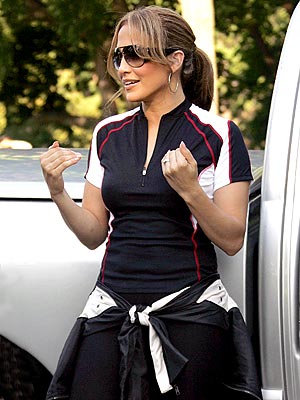 ABC NEWS
- Jennifer Lopez is known to the world as many things - a singer, actress, designer and entrepreneur - but six months after adding "mother" to that list, the 39-year-old is taking on yet another daunting challenge.
The pop singer is training for a triathlon, just six months after giving birth.Months after giving birth to twins Max and Emme with husband Marc Anthony, Lopez plans to run, swim and bike her way around Malibu at the 22nd Annual Malibu Triathlon next month.
Putting such passion and drive into every aspect of her life, from her family to her career and now athletics, is one reason Self magazine recently named Lopez its most inspiring woman of the year.
"It came up when I was eight months pregnant, when I was beached like a whale," Lopez told "Good Morning America." "I was watching TV, and I saw a triathlon and I said, 'I think I could do that.' ... Maybe we could raise some money and do something really great."
Lopez will be racing for charity, donating any money that is raised to the Children's Hospital of Los Angeles. Click here to read Jennifer Lopez's blog.
According to Self, Lopez gained 50 pounds when carrying around her now 6-month-old twins, Max and Emme. Now she says she's still a few pounds over her pre-pregnancy weight, but the pop superstar has been working hard to get back into shape.